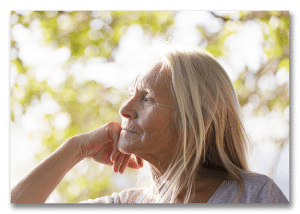 Memory Care at Harmony Homes By the Bay
Our Memory Care Program provides our residents with the specialized supervision and secured environment they need to maintain their dignity and well-being. Our facility has a full-time Certified Dementia Practitioner as well as 24-hour supervision by our trained memory care team comprised of nurses and caregivers. Our team focuses on redirecting behaviors with a warm touch and heart rather than relying on the increased use of anti-psychotics. We work with doctors to establish a plan that weans residents off of medications whenever possible and our caregivers find creative ways to involve residents such as adapting daily routines into different activities that are fun and purposeful to each individual resident.
Our facility, designed with an emphasis on a New England neighborhood feel, provides a supportive and secured environment that gives the resident a sense of security but also familiarity. Walking throughout the halls of our neighborhood, our residents will find themselves in a restaurant style dining room, a cozy living room, or near a spacious courtyard. Special contrasting colors on the walls and doors help residents navigate their surroundings safely.
Our Memory Care Program also provides residents with a complete activity program that features structured activities focusing on each residents' individual strengths, interests, and self-expression. Activities are designed to stimulate the resident and fulfill their need to succeed. Activities include spiritual expression, art therapy, cooking and baking family recipes, music and live entertainment, pet therapy, exercise programs, community involvement, and activities that stimulate the resident intellectually. We feel that it is very important for our residents to stay connected to our community. That's why we have included in our activity program, regular outings such as sightseeing tours, trips to local parks for picnics and walks, dining and shopping excursions, and much more.